VERITEST® 5.0

WIRE AND CABLE INSPECTION
SURFACE CRACK DETECTION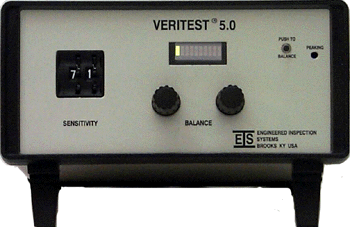 The VERITEST® 5.0 is a basic eddy current flaw detector which is designed for continuous production testing of wire and tubular products as well as crack inspection on parts. Typical defect detection includes laps, slivers, cracks, pits, and weld line faults in both magnetic and nonmagnetic materials.

The unit is also very effective in finding butt weld conditions in THHN wire.

The VERITEST® 5.0 is typically installed on recoilers on copper redraw operations and on plastic extruding installations for electric wire manufacturers. It is also installed in production assembly machines to detect surface cracks in bearing and other small parts applications.


Frequency
Fixed frequency 50 KHz optional 25Khz to 100KHz

Sensitivity
100 db range in 1 db steps

Threshold
50% full scale (red LED segments)

Filters
Fixed high and low pass

EES
Electronic end suppression

Outputs
Dry contact N/O N/C undelayed
Totem pole open supply

Power
120 or 220 VAC, 50 or 60 HZ, 0.5 amps.

Dimensions
19 cm W x 9 cm H x 22 cm D
Weight 2.3 kg

>>Accessories<< >>Applications<<

Quick Start Instruction Manual

Sales:
Engineered Inspection Systems
3259 Coral Ridge Road.
Brooks, Ky 40109
U.S.A.

Tel: (502) 955-9021
Fax: (502) 955-7589
Email: EIS Info