THREAD CRACKS A CONCERN
IN YOUR CUSTOMERS' TANKS?

WHY NOT OFFER A MORE DETAILED VIP?


With the use of eddy current technology, you can offer your customers a more thorough tank inspection. This increases the safety of everyone involved in the use, transport, and filling of scuba cylinders. Plus, this is fast becoming a standard of the diving community.
MEET SIMPLE EDDY!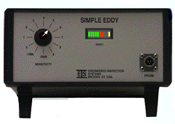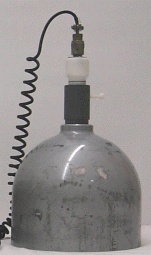 Designed specifically to detect cracks in tank necks, the SIMPLE EDDY is easy to use and offers consistent test results. As a manufacturer and exporter of nondestructive test equipment worldwide for almost twenty years, you can trust our expertise in this field.



WHY BUY THE SIMPLE EDDY ?


HISTORY: Engineered Inspection Systems has a twenty year track record in the nondestructive test field. EIS has machines worldwide in all environments serving the fastener manufacturing sector, aerospace, wire, cable and tubing industries. We are solely owned. We are not and have never been associated with any cylinder manufacturer. This avoids all conflicts of interest.

DESIGN: Our instruments are designed with the end user in mind. As the operator, you will find our instrumentation to be very user friendly. The Simple Eddy is available in two models: Series I for testing either SCUBA or SCBA cylinders and Series II for testing both SCUBA and SCBA cylinders.



SIMPLE EDDY advantages:


The test sensor (probe) is not threaded. This design is an adaptation from the aerospace industry. As the probe is not threaded, it is prone to less wear. There are no special cleaning steps for either the probe or the tank threads in order to get consistent, repeatable, and reliable results.

Exact defect location is very easy with the use of a marker and a set of calipers or ruler.

The probe has been designed in such a manner as to enable its repair in most cases. This lowers your operating costs.

The whole test can be accomplished blind. In addition to the visual aid, we have an audible alarm if the probe passes over a condition which is bad. In fact, most operators never look at the machine.

Links to more information

Quick Start Instruction Manual
Simple Eddy Broshure (pdf format)

Power
120 or 220 VAC, 50 or 60 HZ, 0.5 amps.

Dimensions
19 cm W x 9 cm H x 22 cm D
Weight 2.3 kg

Sales:
Engineered Inspection Systems
3259 Coral Ridge Road.
Brooks, Ky 40109
U.S.A.

Tel: (502) 955-9021
Fax: (502) 955-7589
Email: EIS Info